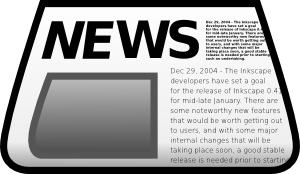 Last week some of the English teachers at my school asked me if I knew of any online newspaper generators that they could use in order to update an old newspaper project that they had previously done on paper. I knew of a few, but I also came across some great new resources in the process!
I know that when I used to teach Spanish II, we did a unit on news and media. The websites below could be used in a French or Spanish class in a unit such as this. Writing news headlines and articles is also a great way to practice writing in the target language in any unit and at any level. These resources could be used for teaching classes across the curriculum as well such as English, Science, and Social Studies.
Online Newspaper Generators (Students Do the Writing)
With this printing press students can create their own newspaper, brochure, flyer, or booklet. When creating a newspaper, students can choose different layouts with up to four articles. They can add in headlines, subheadings, section names, images, and bylines.

The Newspaper Clipping Generator
With this generator students can enter the name of the newspaper, the date, the headline, and their story. This could be done in French, or Spanish, but students would not be able to enter accent marks into the generator. However, you could have your students type into a word processor and then copy and paste into the generator in order to use accent marks.
To download the newspaper, you use the link at the bottom of the generated image. You can put the images on your own website, or blog. However, linking directly to the newspaper clippings doesn't work. The images are deleted from the server after a short period of time.
Newspaper Generators (Content from Social Media Sites and the Web)
"Paper.li is a content curation service." It allows students or teachers to publish newspapers based on topics they are studying, and provide readers with fresh news each day. Paper.li can be made public so all students in the class could access the same paper. Students can publish Twitter, Facebook, Google+ or any web content into an online newspaper. Paper.li monitors their content sources and updates their paper automatically.
This site could also be used across content areas. For example, students could use their own Twitter account, or create a separate Twitter account for Spanish class. They could then search for people to follow based on the content being studied. For example, if they were doing a unit on sports, they could follow different Spanish sports teams or athletes.
If they wanted to create paper with a variety of different sections that would be similar to a real Spanish newspaper, they could follow "El Mundo", and other newspapers from Spanish speaking countries around the world. Then they could do current event presentations based on their own newspaper.
"iCurrent is a personalized news aggregator. It delivers the latest news and information for your interests—from thousands of newspapers, blogs, magazines, and websites. You can tune your interests as you go."
Students can access their newspapers on the web, on their mobile devices, or receive them via email. Another idea would be to have each student set up an iCurrent newspaper and the beginning of the school year and then use it in assignments throughout the year. Students could add news to their newspapers based on their own interests using websites in the target language. Then students could be asked to share one thing that they learned about the language or culture from their newspaper each week. iCurrent would work well for an assignment like this because it cannot be made public. It would be good for individual student use.
"Guzzle reads hundreds of feeds every second to get you the latest news about stuff you care about."
With guzzle.it you can add topics to your newspaper by simply typing them in. Then you can drop and drag to organize your specific interests by topic. Like iCurrent, guzzle.it cannot be made public.
"News360 is a next generation news aggregation & personalization service on the mobile web." News360 can be used on the web, or on a smart phone or tablet.
Magazine Generators:
With scoop.it students can easily publish beautiful magazines. Students can design magazines based on a specific topic of interest, or topic that they are studying in class. It could be a good tool to use for research prior to writing a research paper, or it could be used as a research project. You could ask students to evaluate the websites that they choose to add to make sure that they have good, and accurate information. Once a topic is identified, scoop.it will send you more related links with related content that you can choose to add to your magazine. Students can sign up with a Facebook, Twitter, or email account.
"Convert your bookmarks and
favorite articles
into a pdf and mail it to yourself." Like scoop.it, magazinify seems like it would be a useful site to have students use when doing online research. Magazinify organizes all the articles you need to "read into beautiful text, order, removing all the annoying ads and pop ups, converts it to pdf format and mails you the magazine at the end of the day." However, it does appear that you are required to install the magazinify bookmarklet to your browser toolbar which may be a problem if students are doing the assignment on school computers versus at home.
"Themeefy is a cool new way to discover, curate, compile, and publish knowledge from the web to create your personal Theme magazine." Themeefy is similar to scoop.it in that it is a magazine based on a particular theme or topic.
One advantage of theemefy is that you can upload your own photos, cover page, videos from YouTube, and add your own notes in order to add a personal touch.
A couple of ideas for uses for themeefy listed on the site are
to "create a collection of important links, images and notes to use as in-class resources or study guides for students", and to "create your own travel guide or travelogue". The travel guide would be a great way to incorporate technology in a World Language class while doing a project on a French or Spanish speaking country.
Magazine Cover Generators:
With magmypic you can create fake magazine covers and choose your own picture for them, including a picture of yourself. You put the picture of your choice on one of the available magazine templates. This site might be a fun cover to add to a student project. Magazine covers can then be published on a variety of social networks.
With BigHugeLabs you can also create your own magazine cover using the photo of your choice, but it also lets you add in your own text such as the title, tagline, publication date, price, and up to seventeen different headlines of text. In addition, you can make choices in the colors you put on your cover.